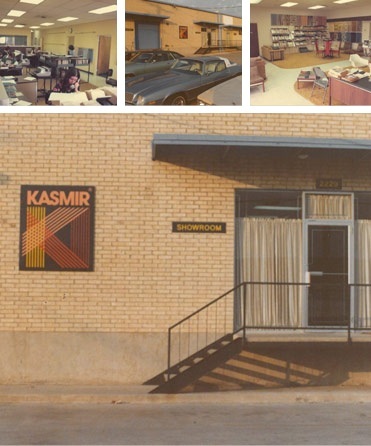 Our History

trust, honesty, service and delivery
Since 1963, when Frank and Celia started Kasmir Fabrics as a small family business, we have held true to the values of trust and honesty, and the principles of service and delivery. Starting as a small one-room fabric wholesaler, Kasmir serviced local drapery retailers with a competitively priced line of fabrics. Kasmir promised great fabrics at a fair price. The Kasmir family knew how important keeping their word was to these small businesses. A generation later, Sam Kasmir took the helm of the company and built it into one of the finest wholesale fabric distributors and fabricators in the country. Today Kasmir Fabrics + Furnishings has grown into an international company with showrooms across the United States and a state-of-the-art distribution and service center in Dallas, Texas.
Our history is also woven with our family of employees, vendors, business partners and customers. Their service and dedication is the very fabric of our company. For five decades Kasmir's employees have been the thread that makes our heritage so rich! We are proud to have many employees that have been with us for over 25 years.
Today Kasmir's products and services look to the future, but our commitment to our customers remains the same. Linda Kasmir and a new generation of artists and craftspeople still believe in that sense of family. With strong roots in the past and a clear vision to the future, Kasmir Fabrics + Furnishings will continue to serve designers with colors, weaves and design styles that set the trends for fabrics and home furnishings.